In CareConnect, you have the option to create an invoice for multiple students at once. Creating invoices may be needed for one-time charges for multiple students at once, or late payment fees for a specific family.
There are 2 locations that you can create invoice: Overview and Family Ledger:
If you want to create an invoice for multiple students from different families, you can use Add Invoice button from the Overview page.
If you need to create an invoice for a students in a specific family, you can use use the Add Invoice button from Family Ledger page.
1. Batch Create Invoice
Batch create invoice allows you to add invoice for multiple students at once. This saves you time from repetitively adding the same invoice for students one by one.
Step 1: From the Overview page, click Add Invoice to open up a new window that directs you to select multiple students.
Step 2: Invoice Setup page will appear with Invoice Info and Items will be required for you to fill out.
Info:
Send Date: time that parents will receive the invoice

Due Date: deadline for parents to pay for the invoice

Start/End Date: period of the service
Items:
Add Item: fill in the information for type, period, program, etc..

Add From Rate Template: choose from existing invoice template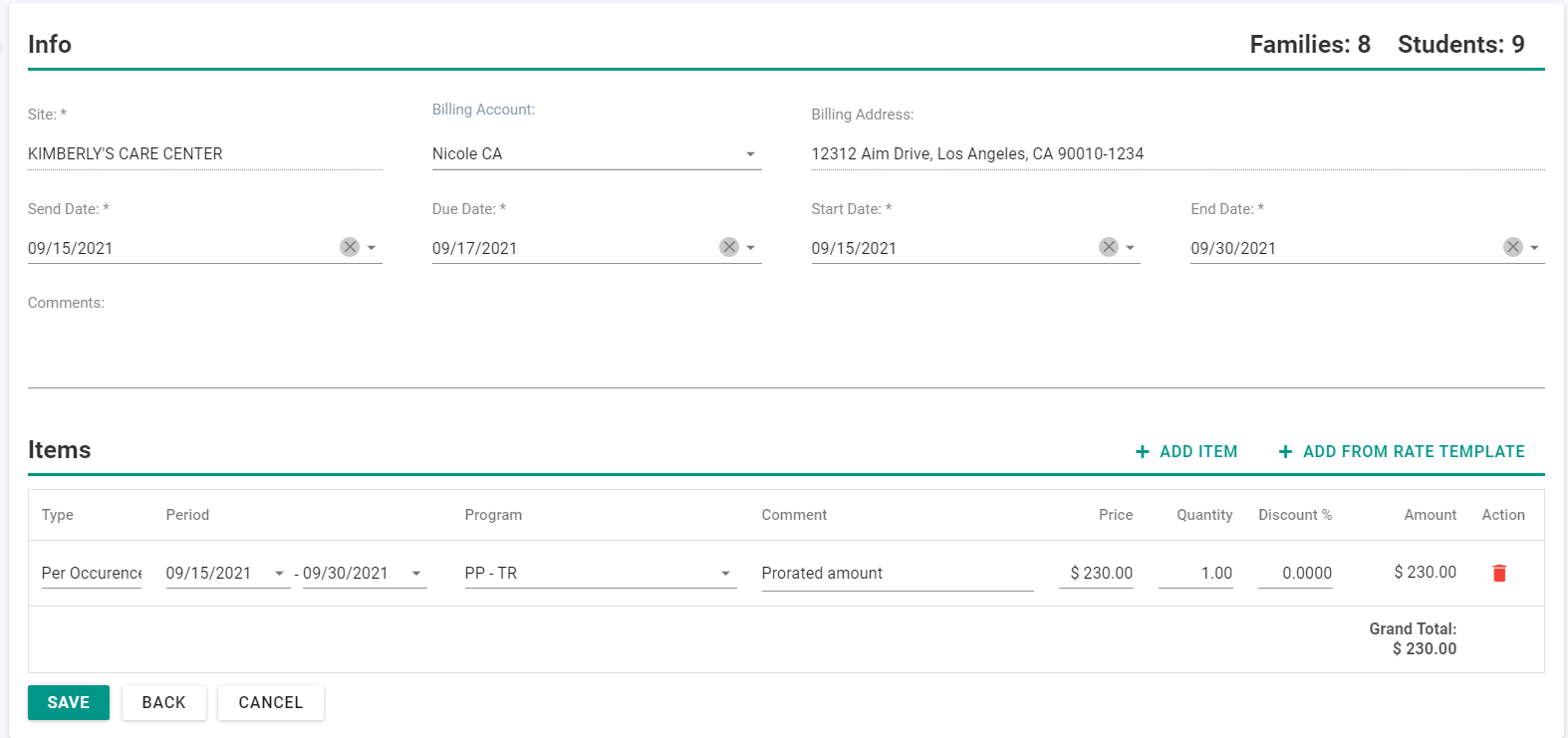 Step 3: Now, the invoice has been successfully created. If you need to send the invoice right away, then click Send or you can wait until the system sends the invoice on the specified Send Date → click Close to go back to the Overview page.
2. Create invoice for a family
If you need to add a late payment fee or anything that requires a charge for one family only, you can use the Add feature from Family Ledger to create an invoice.
Step 1:
Select a student to go into the Family Ledger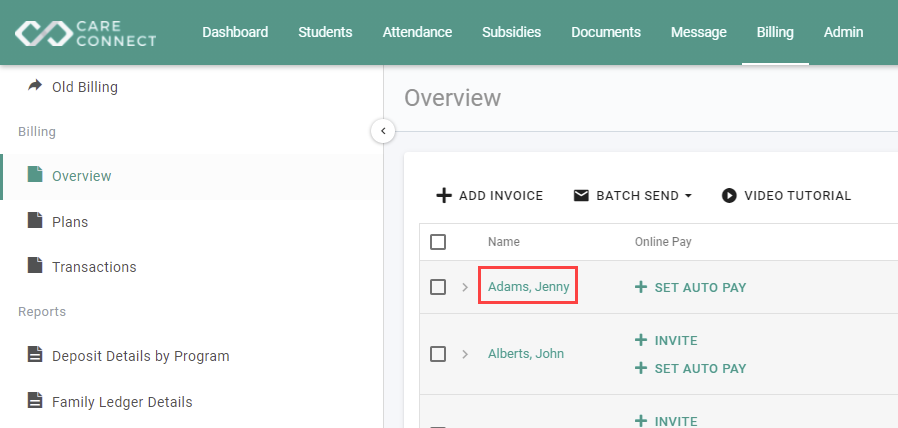 Step 2:
Click on
→ Create Invoice which gives a list of students from this family only.
Step 3:
Edit the Send/Due date, Start/End date, or other relevant information from Info. Then, you can either Add Item or Add From Rate Template to indicate the rate for this invoice. You can use the items area to indicate whether it's for Late Payment or other purposes in the comment section. Once you're done filling out the information, click Save to confirm your actions.
Step 4:
A confirmation page will display with all the information that you've entered. On the bottom of the page, there are few options for you to manage the invoice:
Edit: update the invoice details
Note: If you need to void the Invoice you can find that option here when editing an Invoice. If you need to void any invoice, you can refer to the CareConnect Billing - Void an Invoice
Get Payment: charge the parent's account through bank information or credit card connected in FamilyPortal
Send: options send current invoice, invoice past due, or invoice due
Print: print/download the invoice or refunds information
Back: exit the invoice page and goes back to the family ledger